Here you can request to change your points to Paypal cash. You need to have the minimum amount required to do so and have a valid paypal account email address.


You need to login to be allowed to change FansFrenzy Points for Paypal cash.
Meyer To Retire
Following Rose Bowl
Ohio State announced Tuesday that head coach Urban Meyer will retire from coaching following the team's Rose Bowl matchup against Washington on New Year's Day.
Offensive coordinator Ryan Day will take over as head coach. Day filled in for Meyer while the latter served his three-game suspension to start this season.
Meyer called his decision "a result of cumulative events."
"Urban not only exceeded expectations, but he also raised the level of the entire Big Ten," athletic director Gene Smith told reporters on Tuesday. The AD also announced that Meyer will remain at the school and will work in a "new capacity".
Over the last few weeks, reports surfaced that the three-time Big Ten champion would step down following the season. The 54-year-old's health has attracted a great deal of attention, as he's looked more worn out on the sideline each week. Health concerns also contributed to Meyer's departure from Florida at the end of the 2010 season.
When asked whether he's finished coaching, Meyer originally told reporters "that's a complicated question," but later withdrew that statement, saying "I believe I will not coach again."
He'll now retire as one of the best coaches of his time. Meyer joined Ohio State in 2012 and has accumulated an 82-9 record with two conference titles and one national championship. His 90.1-win percentage is the best in program history.
The Toledo, Ohio, native captured two additional national titles with the Gators during the 2006 and '08 seasons. He also spent time with Bowling Green and Utah, leading the Utes to an undefeated season and a Fiesta Bowl victory in 2004 before joining Florida.
Overall, Meyer owns an incredible 186-32 career head coaching record, along with an 11-3 mark in bowl games.
Twitter

FansFrenzy
44 Minutes ago
The Toronto Marlies have traded goaltender Jeff Glass to the San Diego Gulls in exchange for future considerations.
#AHL
54 Minutes ago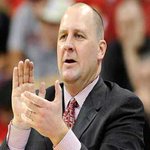 1 Hour ago
NBA League Pass to offer quarter-by-quarter pricing
1 Hour ago
Report: Phillies engaged in 'ongoing dialogue' with J.A. Happ.
1 Hour ago
Ole Miss OT Greg Little declares for NFL draft.
1 Hour ago
Reunion with Craig Kimbrel unlikely as Red Sox say they won't spend on closer.
FansFrenzy Video Highlights
What goes around, comes around.
Thanksgiving can be very entertaining when the family gets together. It gets even more entertaining when the fights break out.
Do you remember Patrick Mahomes' left-handed pass that was just crazy? I think it was topped on Friday night in a high school football game.