Here you can request to change your points to Paypal cash. You need to have the minimum amount required to do so and have a valid paypal account email address.


You need to login to be allowed to change FansFrenzy Points for Paypal cash.
Tentative Deal Reached
It appears that there is an agreement in place for the CFL and CFLAPA.
The tentative deal will replace a five-year Collective Bargaining Agreement that was set to expire on Saturday May 18.
While details of the agreement have not been released, reports indicate that it will be a three-year deal with the salary cap going up $50,000 per season, as it was doing in the soon to be expiring CBA. The deal will also see the minimum salary increase to $65,000 in years two and three of the deal.
The deal seems to make sense for players, but it will hit veteran players hard. The cap will go up by less than a percentage point while the minimum salary rises by 20 percent meaning older players will likely have to take pay cuts starting next season so teams can fall in line with the cap.
During the negotiations, there were talks of the Canadian ratio being changed. However, it appears that it will stay status quo with the new agreement. That means teams will still have to start seven National players. What may change, though, is what qualifies as a Canadian.
The new deal still needs to be ratified by the players and gain approvals from the CFL's board of governors. The latter will be easier as the board was previously set to meet on Wednesday, but it will take longer for the players to give their approval.
The CFLPA is expected to present the deal to the team reps on Wednesday before it is forwarded on to each player in the league. The players' association had announced a partial players' strike if a new deal was not reached by Saturday. Players with the BC Lions, Saskatchewan Roughriders, Winnipeg Blue Bombers and Montreal Alouettes were instructed not to report to the start of camp.
Players on CFL teams from Alberta (Edmonton and Calgary) and Ontario (Ottawa, Toronto and Hamilton) will all report to camp as they would not be in a legal position to strike until May 23.
CFL training camps are scheduled to open on Sunday May 19.
Only once have the CFL players gone on strike. That occurred in 1974 but was resolved prior to the start of that year's regular season.
On This Date
May 19, 1984 - Stanley Cup Final, Northlands Coliseum, Edmonton, AL: Wayne Gretzky scores twice as Edmonton Oilers beat NY Islanders, 5-2 for a 4-1 series win; Oilers first Stanley Cup
LEADERBOARD
Luckyjp99

206114.00 Points
Twitter

FansFrenzy
2 Hours ago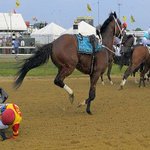 5 Hours ago
When the CFLPA received the final CBA documents for ratification on Saturday, there were some things that were diff…
https://t.co/qUUwPeauVQ
5 Hours ago
RT
@JOEL9ONE
: Cheers. Been a hell of a journey. Eleven years and I can honestly say I put my soul into every minute of it. Highs and lows.…
5 Hours ago
Chris Long appears to announce his retirement from the NFL after 11 seasons.
6 Hours ago
Yankees' Masahiro Tanaka unsure about next start after liner to shin.
6 Hours ago
A's make it 15 straight over Tigers with victory.
FansFrenzy Video Highlights
It is rare to witness a perfect baseball game. It is also rare to see the accomplishment happen in softball.
The London Marathon was held on Sunday and it seems one of England's best-known landmarks had a little trouble crossing the finish line.
Damian Lillard decided he wanted to call the series on Tuesday night.